CAAP offers training in several forms to build capacity within its member agencies to assist low-income families, solve community problems and effectively operate and report results.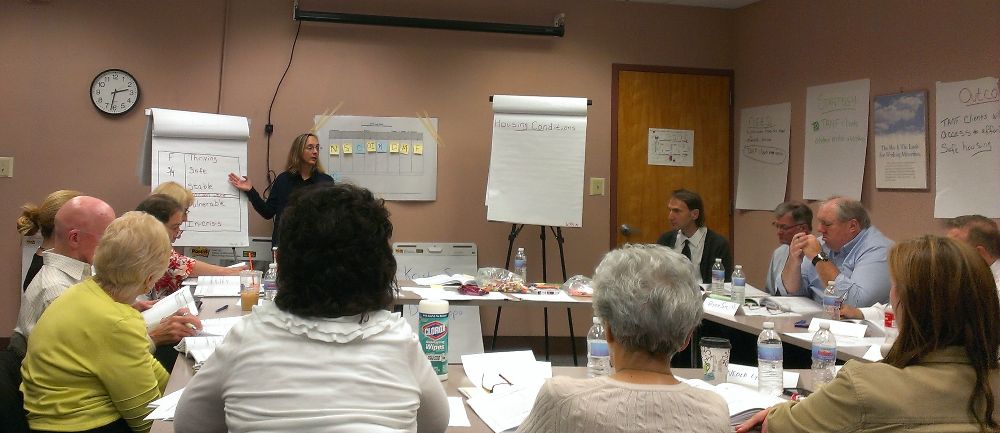 Through past years, CAAP was part of the curriculum development of Results Oriented Management & Accountability (ROMA) for agency staff, boards and trainers, as well as the Strengths-Based Family Worker (SFW) credentialing program. While the ROMA program is now under the auspices of the Association of Nationally Certified ROMA Trainers, CAAP is still very much involved in coordinating training for its members.  More information on ROMA may be found under the tab located to the left side of this page.
Credential for Strengths-Based Family Worker (SFW) has been transferred to Temple University-Harrisburg. To gain more information on SFW, please contact the university staff noted on the linked page: SFW Temple University-Harrisburg.
Governing and operating a Community Action Agency (CAA) requires insight and understanding of Community Action, the separate responsibilities and duties of boards and executives, and nonprofit operations.  CAAP offers governance training for our member agencies' boards. CAAP has also developed a mentoring program for new executives to learn about the Community Action network and history and to have an experienced executive from another CAA assigned as a resource and guide to the new executive.  More information on each may be found under the Governance and Other Training Opportunities tabs on the left side of this page.
CAAP also offers training opportunities through regional and national partners.  We are part of the Region 3 Performance and Innovation Consortium (R3PIC) with the state associations representing Delaware, the District of Columbia, Maryland, Virginia and West Virginia. Together we identify training needs across our members and offer on-site and webinar training.  We promote webinars and informational meetings held by the Community Action Partnership, National Community Action Foundation, CAPLAW, National Association for State Community Service Programs, the Coalition of Human Needs and other national organizations of interest to Community Action.
Networking and sharing information is also a form of training.  To that end, CAAP assists members in setting up bi-annual regional meetings in the spring and fall. The network is divided into 6 regions, and each region may meet on its own or with another region. Typically the meetings provide for updates and discussions on statewide and national initiatives and a time of sharing significant services and efforts that each agency offers in its service area.  CAAP will also make use of tele- and web-conferencing for agency staff sharing similar focus or purpose to exchange ideas and concerns.