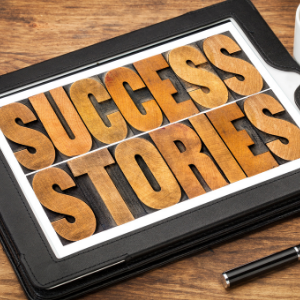 We Want To Share With You
Read about the challenges that Community Action has helped individuals and families face, and how working together with a local Agency has helped so many people reach and maintain self-sufficiency.
Agencies, would you like to share your success story?   Send your stories anytime during the year to Charlotte.
Read the success stories published in the monthly CAAP newsletter called "Agency Spotlights".
Read stories featured and celebrated in the past self-sufficiency awards.
---
Other Ways To Learn About Community Action
Sign Up For The "Agency Spotlights" Newsletter: Every month, this newsletter will highlight new stories that demonstrate the success of our programs and services, as told by the agencies themselves.   Signing up will also include a monthly "What's New" newsletter, offering recent resources and information on things happening within Community Action.  Sign up for our newsletters or view past CAAP newsletters here.
Visit Our Social Media Page: Learn about CAAP's social media platforms, or directly link to follow us on Facebook, Twitter, LinkedIn and Instagram tor ongoing updates, education and information.  Share our posts onto your pages. The social media buttons/links are also below in the footer.
Watch Our Video Stories: First, we recommend you link to our website video collection page, which is a curation of our favorite videos.  Then try:
Note:  Our Vimeo account houses much of our videos history. We recommend starting with the Journey To Self-Sufficiency videos (there are three of them). You can watch them on our website or find them on our Vimeo page. On Vimeo, there's a button that allows you to download any video you want as a mp4 file. You can also embed the videos using the individual Vimeo links. Feel free to use any of our videos however you want.
Get To Know Our Self Sufficiency Award Winners:  Each year we honor the hard work our client's do to reach financial self-sufficiency.  Read about our clients and their stories we celebrated in past years here.
---