Stephanie Romero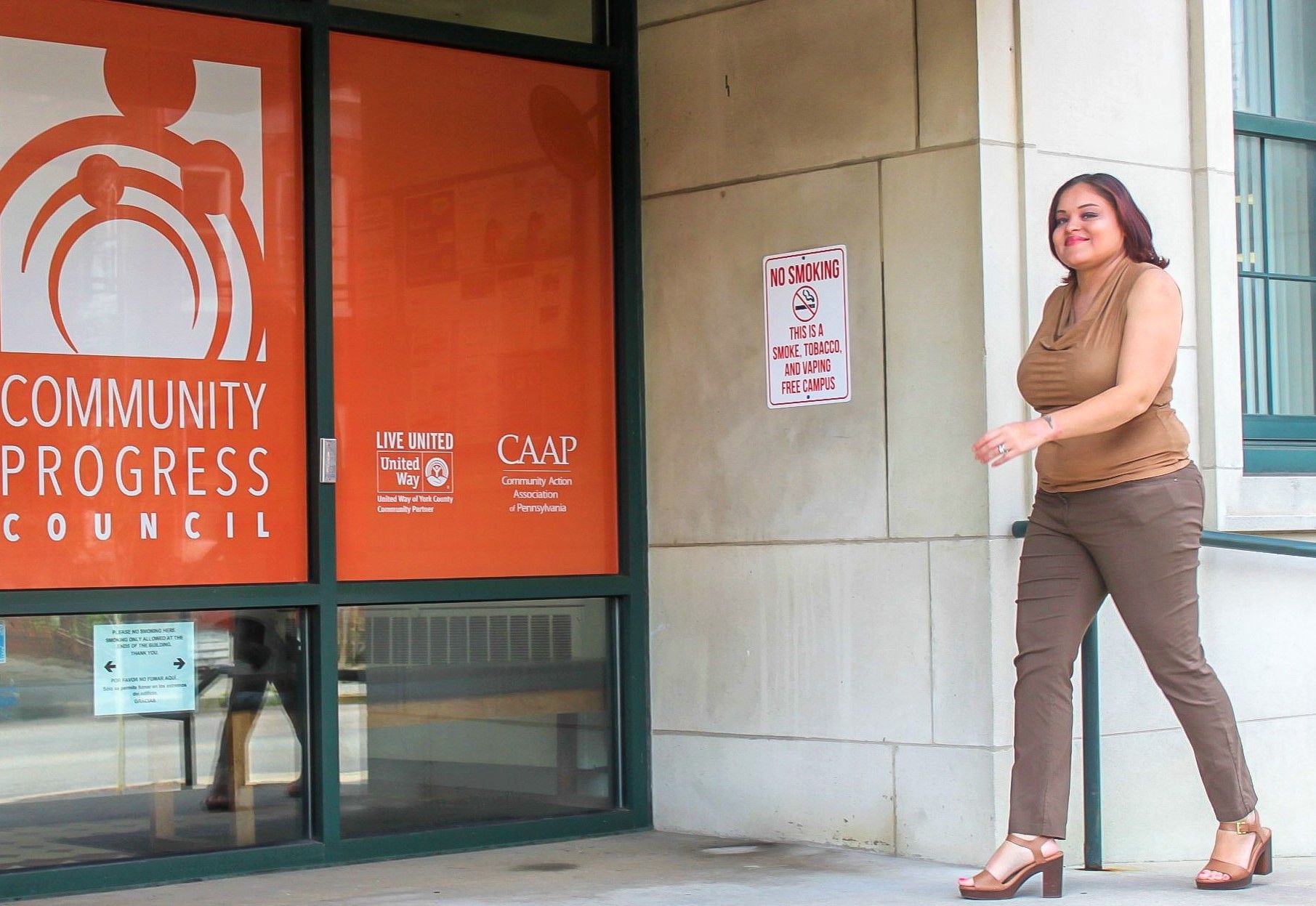 Stephanie will tell you that her family came to York, PA in the Spring of 2011 on a 'wish, hope and prayer'. She, her husband, Jesus, and two-year-old daughter, Annalise, left the Bronx with hopes of finding more opportunities and a lower cost of living. The pressure and expense of city life kept them from being able to move forward, and over time the family became financially drained. At the suggestion of a family friend, the Romeros made their way to Pennsylvania.
While living in New York, Stephanie received Women, Infants and Children (WIC) Food and Nutrition services for her daughter. She transferred her case to Community Progress Council's (CPC) WIC program in York. The WIC Caseworker helped connect Stephanie to the County Assistance Office where she applied for Supplemental Nutrition Assistance Program (SNAP) benefits and Medical Assistance. She and Jesus were unemployed and living in a small rental home with structural and rodent issues. To help pay their utility bills, they enrolled in the Pennsylvania Customer Assistance Program (PCAP). Stephanie found work through a Temp agency in a factory.
In May 2011, Stephanie began working as an AmeriCorps VISTA for the United Way. She was appointed at Community Progress Council to assist in the implementation of a new Safety Plan. In September 2011, a fulltime opening for a Family Engagement Specialist was posted in CPC's Early Head Start/Head Start program. This was the break Stephanie needed. While Stephanie was working, Jesus stayed home with Annalise, so the family could avoid the cost of childcare; however, additional costs on the family made the need for a second income abundantly clear. Jesus began working third shift, so he and Stephanie could continue to avoid paying childcare; the growing family sacrificed time together to make ends meet.
In September, Stephanie was able to enroll Annalise into CPC's Head Start program which provided a little relief for Jesus during the day. Their routine stayed this way for a few years; never making enough to move forward and getting set-back by life's unexpected circumstances that included a car breaking down, late bill fees, medical bills, overdraft fees, and family emergencies.
Stephanie and Jesus worked with their Head Start Family Engagement Specialist to develop goals for their family to get to self-sufficiency. With the children enrolled in the Head Start program, Jesus was able to increase his hours and income. Stephanie and Jesus were able to establish a savings account and learn budgeting skills through support from CPC's programs.
"Community Progress Council changed our story completely," Stephanie says. "When we moved from NYC to York, we had no idea what to expect, when we would get gainful employment and when we could be able to move to an area that we felt was safe". Stephanie now uses her story to inspire others. Her children have graduated from the Head Start program. With support from her Family Engagement Specialist, they were able to move to a better school district and are living free of government assistance. She is still working on increasing her savings and has future goals of homeownership. Stephanie shares, "Struggle is temporary, but success is forever, and even if we hit bumps along the road, we never lose sight of the goal."