Meghan Dillie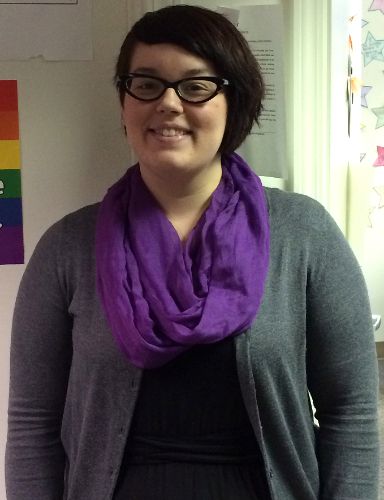 Ms. Meghan Dillie first visited Community Action Southwest (CAS) in the winter of 2012 to access the tax preparation services offered through the agency's Volunteer Income Tax Assistance (VITA) Program. At the time, Ms. Dillie was unemployed and relied on SNAP to cover her monthly food expenses. Ms. Dillie had grown up in generational poverty, was the first person in her family to go to college, but recently had to drop out of school for financial reasons.
Shortly after her first visit to CAS, Ms. Dillie applied for a position as an AmeriCorps Public Ally and learned there was a position available at CAS; she applied and was selected. Meghan began working on various projects at the agency in September 2012, one of which was the Community Action WORKS initiative. As she learned more about the initiative, she realized there were a number of programs that could help her address her barriers to self-sufficiency, so she began to also meet with a case manager at the agency.
The first program she accessed was the Financial Literacy Program. Through this program, Ms. Dillie learned skills that helped her to budget, save, and spend the money she was earning more appropriately. Given her new financial literacy skills, Ms. Dillie enrolled in the agency's matched savings account program known as Assets for Independence where she could save towards completing her college education. For every dollar Ms. Dillie saved towards her educational costs, her account was matched with two dollars. Ms. Dillie used her savings account to pay for the final classes she needed to take online through East Tennessee State University to complete her Bachelor's Degree in Women's Studies in May 2014.
As part of Ms. Dillie's year of service with AmeriCorps, Meghan helped to coordinate the agency's "Getting Ahead" 16-week class series; she also opted to participate in the series as a client. Through Getting Ahead, Ms. Dillie began to assess and understand her own personal situation in poverty as she devised a plan to become self-sufficient.
Another accomplishment during Ms. Dillie's year of service was being selected to represent the AmeriCorps Program in a meeting with President Barack Obama in March 2013. Meghan met with President Obama at the White House and even spent time with him in the Oval Office.
The final barrier CAS helped Ms. Dillie to address was obtaining a driver's license. Because of her lack of reliable transportation, Ms. Dillie was forced to walk several miles each day to get to work and necessary appointments. In the spring of 2014, Ms. Dillie obtained her driver's permit. Through the agency's Chevron & PNC Bank Barrier Elimination Funds, CAS was able to pay for Ms. Dillie to get private driving lessons. She quickly passed her driver's license exam and was able to purchase a vehicle, a brand new one at that.
Eventually, Ms. Dillie became a fulltime caseworker at Community Action Southwest where she worked on programs that are part of the agency's Community Action Works initiative. Ms. Dillie facilitated the Getting Ahead class series and graduate group as well as assisted agency clients to secure employment. Having full-time employment enabled Ms. Dillie to close her SNAP benefits, making her free of all forms of public subsidies.
Ms. Dillie's next goals are to attend graduate school so she can obtain a Master's Degree in Social Work as well a purchasing a home.