Christiana Hoschar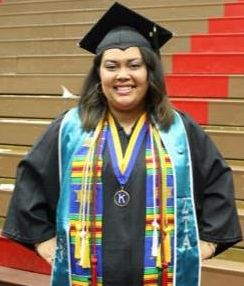 Christiana Hoschar grew up in a less than ideal home life. Her fourteen year-old single mother was unable to take care of her and moved out when Christiana was 4 years old, leaving her with her grandparents.
When Christiana was eight, her grandfather passed away. The stable home she had come to know was rocked as her widowed grandmother had to work full time to provide for Christiana and her own two teenaged children. With her grandmother working long hours to keep the family clothed and fed, Christiana felt a void in her life that she couldn't identify.
While in third grade, Christiana met Mrs. Davis, who worked at the elementary school. Mrs. Davis showed an interest in Christiana's wellbeing. But in middle school, Christiana began hanging around the wrong crowd. This led her into frequent trouble at school and at home. At the young age of thirteen, she was arrested. Christiana felt as though her life was unraveling.
When she was fourteen years old, she met Mr. Matt Nance, Executive Director of the Tiger Pause Youth Ministry. Drawn by his words, Christiana asked Mr. Nance if she could join Tiger Pause. To her surprise, she found that Mrs. Davis from her elementary school was administering the program. After joining, she completed 40 hours of community service, tutoring elementary school children and volunteering for the work crew. She was transforming her life in ways she had not imagined. During high school, Christiana continued to help with Tiger Pause. It was rewarding, but she still felt her transformation wasn't complete.
During the summer of her high school sophomore year, a Tiger Pause minister was speaking to program participants at their church. Christiana felt he was speaking to her heart and that day she decided to devote herself to the Lord. The seed that was planted in third grade and watered for years at Tiger Pause had finally bloomed. Christiana began her walk with Christ and the void she had long felt was finally being filled. She has worked with Tiger Pause now for eight years. Mr. Nance marvels at Christiana's ability to stay focused, saying she always, "keeps the main thing as the main thing," and is someone who can "Improvise, Adapt and
Overcome."
Christiana graduated this year from Edinboro University with a Bachelor of Science degree in Biology, and minors in Chemistry and Psychology. She worked part-time at Tiger Pause on breaks and summers and worked part time at Wal-Mart during all four years of college. She was a Biology tutor on campus. She is currently attending Lake Erie College of Osteopathic Medicine, completing their post-baccalaureate program with plans to start their 4-year degree program to become either a Pediatrician or a Primary Care Physician.
Christiana knows she will never be completely done with Tiger Pause. She recently stated, "You never know true love until you are doing God's work, especially when you think you're making a change in a child's life and come to realize that they're the ones truly changing you." Her transformation from a troubled child, living in subsidized housing to a self-sufficient college graduate and medical school student, and her dedication to "paying it forward" serves as a testament to the people and principles of the Tiger Pause Youth Ministry.